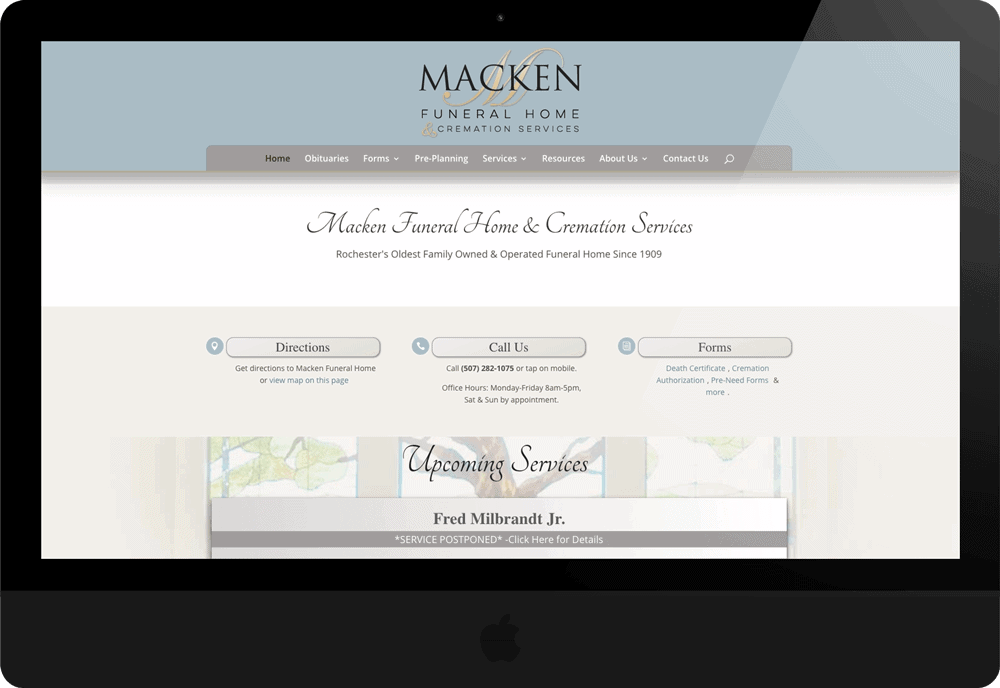 On behalf of the Macken Family and Macken Funeral Home in Rochester, MN, we want to thank you AGAIN for all your help in updating our website and for the direction and assistance in creating new mobile sites for the Macken Funeral Home and our Simply Cremation program.
You have been invaluable to us for the past several years with your assistance with three major updates for out websites. Not only have you assisted with the creative side, but your technical support has been outstanding. Every request or issue has been handled in a timely manner and followed through until we reached completion or a solution. We have never (yes, never) had to call you twice about a single technical issue.
In today's society, our website can be our first impression. There is no doubt we have gained customers based solely on our websites. To us, that speaks volumes about your abilities.
Thank you Scott for what you have done for us.
– Mary Macken-Garry, Macken Funeral Home, Rochester, MN
Website Design
Graphic Design
Web Hosting
Online Review System
Online Forms to PDF File
Email Services
Website Support
Value Marketing
Performance Tuning
On-Site SEO
Domain Name Management
Give us a call or send us a message...