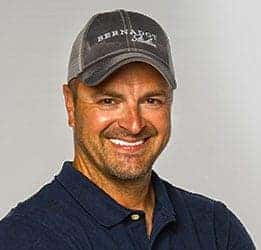 Our story…
Hello, my name is Scott Bernadot.
Back in the late 1990's and early 2000's, I worked in IT at Firstlogic (now SAP) and First Federal (now Associates Bank) in La Crosse.
I created one of the first websites for First Federal, and was responsible for managing the internal Client Services intranet at FirstLogic.
I am so thankful for these experiences, and even more so for the many wonderful people and relationships this brought into my life.
Through these relationships, I was put in contact with a couple other local businesses that needed website design work.
One was Chaseburg Manufacturing (The Scrusher), who was a client for over a decade until the business was sold in 2015. The other was Colgan Air Services, whom I still have the honor of serving to this very day.
The experience of working with small businesses combined with my corporate web design experience and encouraging words from others, gave me the confidence and determination to leap forward.
So in December 2003, I opened Bernadot Studios.
My mantra was (and is) "Failure is not an option".
I cashed out my 401k, about $12k at the time, and used that to pay my expenses as I got started.
Other than the two businesses I had been working with, I had no clients or income.
As fate would have it, my very first day in business, I got a call from my dentist's office, we got talking and they ultimately hired me to build a new website for them.
Bit by bit, through word of mouth, giving away services, and of course my business website and online marketing efforts, I gained clients and built my business.
And let me share something with you. Running your own business can be stressful and difficult, at any time, not just the beginning.
The economy changes, demand for what you are selling changes, competitors & suppliers change, employees change, expenses change, etc.
The whole thing is about adapting to change and having the perseverance and love for what you do to bring quality and professional services to your market.
In fact, the growth that comes from obstacles is really one of the greatest gifts of self-employment.
Let me show you what I mean:
When I began designing websites in 1997, most everything was done by hand or by very crude tools, and there were not a lot of people building websites. Each website was like reinventing the wheel.
Next, tools like Macromedia's DreamWeaver came about that made building more complex websites easier. This made website's more dynamic and smarter, instead of everything being hand-coded for each page. Now a menu could be designed once and appear on all pages.
Always on the lookout to make my work easier, I discovered content management systems. Content management systems provided a huge number of benefits over a non-CMS website. Specifically, they allowed a website to be built faster, introduced a  modular approach to website design, and gave clients the power to edit and update their own website.I played around with a number of CMSs, and ultimately settled in on WordPress. In fact, to the best of my knowledge. I was the first shop in the area using WordPress for client websites, and now WordPress is the most popular CMS on the planet. Today, most every web shop uses WordPress. It also opened the door to providing support and security services, as CMSs need continual updates and monitoring.
Because I was an early adopter of WordPress, there was an opportunity to design themes and plugins for the platform. so I sold themes and plugins for WordPress. I started as a partner in Gorilla Themes and then opened Aloha Themes as a solo venture. When I started there were about a dozen business selling WordPress themes. Today, there are 100s of theme shops.
Then came a big change in website design: mobile-friendly design. This shook things up for my theme business as most of my themes at the time were not mobile-friendly. In addition, the market had changed big time. There were now online marketplaces to buy themes at a fraction of the cost I had to charge. There were also large teams of developers and designers building beautiful themes that went beyond the theme, but actually changed the way content was managed within WordPress, including drag 'n' drop page builders. I exited the theme business. On the flip side, my clients needed to upgrade their websites to be mobile-friendly, so this was a boom time for my core business.
Then more user-friendly website builders started flooding the market. This changed the marketplace again, and still persists. This prompted me to reevaluate my value in building websites, and led me to taking some courses and getting certified in landing page optimization and value proposition crafting. Ultimately, I created my own value proposition mini course because what I discovered was that it was not important to just have a nice-looking website; if you want to generate leads you also need to have the proper words and compelling copy to make your business distinct from your competition.
Facebook and Google's presence also became more important for local businesses, so this opened up new opportunities to setup and manage these accounts for my clients. But, even more importantly, was the impact of online reviews and how this was affecting people's perception of a business. Google was placing star ratings within organic listings for a while, not just the map results like today. This was an "a-ha" moment for me. I realized that is was now CRITICAL to have a positive rating for your business or potential customers may not even make it to your website. Who wants to check out a 2 star business, right? I started my 5 Star Engine online review system to help business owners get more positive reviews from their customers.
In 2019, website accessibility was making the headlines, because some businesses were being sued for not having a website that was accessible to people with disabilities. Again, I took this as an opportunity to learn and I completed a course on website accessibility. I began integrating accessibility into my services and educating my clients why it is important.
This is just a quick timeline of major changes that have hit my business and how I changed the focus to flip obstacles into opportunities.
3 important practices that helped me avoid failure
Outside of flipping obstacles into opportunities, there are 3 core practices that really helped me get from launch mode (survive) to orbit mode (thrive).
Use a contract to clearly state pricing and deliverables with all your clients. This protects you & your client, and prevents scope creep.
Focus on generating recurring revenue so that you are not always chasing another project to feed yourself.
Implement systems & write down repeatable tasks. Even a simple checklist allows repetition of a set standard for a specific task. This will save you lots of time,  potential embarrassment, and also allow you to quickly train others.
I believe you, as a client of Bernadot Studios, are entitled to…
100% satisfaction guarantees on all our services and products
Free consultations to answer any questions you may have with no pressure or obligation
Upfront, fair pricing that requires your approval so you know the cost of requested services before work begins (no surprise invoices)
Itemized invoices with clear pricing

Speedy replies (usually within minutes) to all emails and phone calls 7 days a week

All minor website updates and support requests are processed the same day – you will not wait days or weeks for updates
No long term contracts or termination fees
A company that is forward thinking to bring you new services to meet the needs of today's businesses in a mobile, social, review-driven marketplace
I rarely take the time to provide reviews but in this case, I will take the time. Bernadot Studios did what they said and said what they did for a fair price. I would highly recommend this company for all your website needs.

– Marty Kirchner, Kirchner Custom Builders
Additional facts:
Bernadot Studios is owned and operated by Scott (main operator) and Meghan Bernadot (writing and financials)
We opened our doors in 2003, but have been designing websites and providing online makreting services to the La Crosse area since 1997
Scott is certified in Landing Page Optimization by MECLabs & Value Proposition Development by MECLabs
Scott completed the Website Accessibility course through DeQue University (2019)
Scott is certified in Search Engine Optimization (SEO) by ClickMinded
We specialize only in WordPress websites