Coronavirus Outbreak Notice: For everyone's health and well-being. we are conducting all consultations by phone or Facetime at this time. There will be no in-person meetings until the outbreak has passed. On another note, I highly recommend to post updates on your own website on how your business is working around this outbreak in safe and mindful ways.
› Learn More
Optimize Your Local Marketing. Take Advantage of Free Online Opportunities Now!
Get More Local Online Leads, Faster, with Less Money.
Get our exclusive FREE LOCAL MARKETING MISSIONS CHECKLIST to maximize your marketing efforts, minimize your costs, and get results year after year.
Many missions can be completed for free, by you.
Just knowing "what" needs to be done will relieve stress & confusion in today's high-tech, mobile, social, and review-driven marketplace. And best of all it's totally FREE.
One small step for you. One giant leap for your business.
Not convinced you need it? You'll want to keep reading below...
"Failure is not an option."
This is the credo I used to build Bernadot Studios.
Quote is apocryphally attributed to Gene Kranz and the Apollo 13 moon landing mission.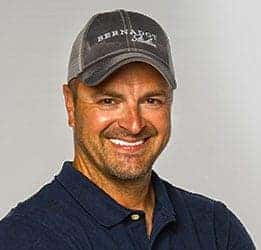 Hello. I'm Scott Bernadot.
Like you, I am a small business owner and understand the importance of effective marketing on a budget.
I founded Bernadot Studios in 2003 as a one-man shop, and continue to operate the business myself.
As you know, being your own boss can be both exhilarating and a little scary.
The freedom over your schedule and time is unbeatable.  Business slow downs, marketplace changes, and expense increases, not so much.
To get through tough times, I think a positive mindset is critical.
"Failure is not an option" is the phrase I would repeat to myself to keep my priorities in order and give myself a mental push.
When your business and livlihood are tightly intertwined, failure is not an option, right?
Which is why I think it is so important to learn from the mistakes and successes of others who have gone before you.
For example, here's a quick peek inside the marketing of my own business.
As of this writing, all of my leads have come to me from 6 sources:
Word of mouth (friends/ family / referrals)
Existing clients
 Search engine traffic
 Email messaging
 Social media
 Giving away services
I have never spent a penny on traditional advertising like newspapers, billboards, radio, TV, or yellow pages.
While traditional advertising may work for some, I am frugal and did not want to commit thousands of dollars to a short run that may or may not work, and have no funds left for later.
That was too much of a gamble for me.
So, instead, I got creative and studied how to build my business online and invest in affordable or free marketing tactics that provide long-term returns (month after month and year after year).
The Local Marketing Missions Checklist I am giving you is the culmination of 20+ years of my successful local marketing tactics that I have used for my myself and clients.
And right now you have the opportunity to get this checklist for Free.
Plus, the checklist directly correlates to the Local Marketing Missions (local marketing advice and services) I offer on this website, so if you need help with a specific Local Marketing Mission you can just stop back here and get the help you need to complete a mission.
And, the good news is that many of the local marketing missions (including a mission critical tactic many small business owners overlook) can be done by you, without any assistance from me.
So whether you are just launching your business today or have been orbiting for a while, this checklist might be just the boost your business needs to get you going in the right direction.
Grab it now, as this free gift will not last forever…
"Failure is not an option."