WEBSITE DESIGN PROJECT
Bagniefski Heating and Air Conditioning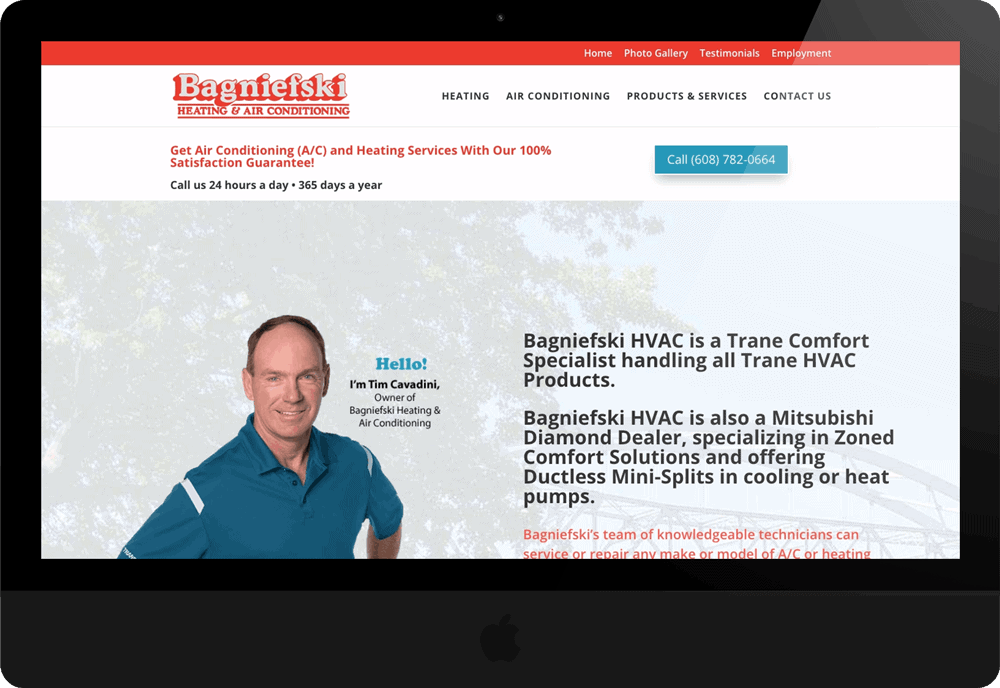 SERVICES PROVIDED
Website design
Graphic design
Secure website hosting
Email services
Website maintenance, security & support
Value proposition marketing research
Website performance tuning
Search engine optimization (SEO)
This website is self-managed by Bagniefski Heating and Air Conditioning.
"I highly recommend Bernadot Studios for your website design needs. Scott Bernadot did a fantastic job updating our website in a quick and efficient manner, while still paying attention to detail. He shared his insight on ways to market our business to bring in more leads and gave his rationale for his suggestions. He was very responsive to our phone calls, and emails, often getting an email back from him within 15 minutes from sending it. He is extremely knowledgeable about his field and when sharing his suggestions, he would give his rationale along with it. He is more than willing to make the changes or additions you request but is not afraid to share his viewpoint, if he feels the marketing results could be unfavorable to the business. He knows the field he's in and gave us foresight from what's he's read, and heard in the field, on regulations that may already be in the works, relating to businesses and how their websites target potential customers. We will continue to utilize his services. "
Getting started is quick and easy.

No pressure.
We'll Review Your Submission
Get a response within 24 hours