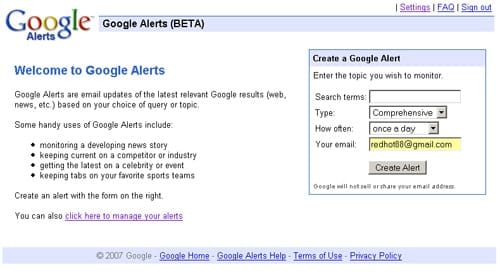 Did you know that there is a free utility on the internet that allows you to monitor a particular subject, and receive email updates to notify you? This is very powerful stuff!
This tool can be be used for fun, but it also a very important business tool when used properly.
The tool I am referring to is called Google Alerts. Yes, Google has done it again, and once again they offer their services free of charge. That means there is absolutely no reason you should not be using this tool to find news, information and more about your own business (find out what others are saying), your competition and your industry.
Using the tool is as simple as going to Google Alerts Website, and filling-out the quick form. It could not be easier, so go there now and try it out.
This helpful business tip is provided courtesy of Bernadot Studios – A La Crosse, WI Web Design Company